Today's schedule;
10-12= Group activity- Manifesto
12-12.30= Break
12.30-1.30= Group activity- Manifesto
1.30-2= Moving into studio space, setting up a table, chair and locker
2-2.30= Break
2.30-4= Frank Gehry 'Sketches' documentary- notes made on separate sheet (https://www.youtube.com/watchv=E0amON0l_1o)
5-6= Blog/ Reflection
Comments;
Group activity- Manifesto- (Elaboration on favourites in brackets)
Mistakes are valid (mistakes can be useful/ you do not know what will happen until you try)
Be open minded (Think positively)
Ideas are free (The way artists work differ from person to person. You may have the same idea as someone but act on it very differently. Do not be afraid to explore similar ideas)
Practise everyday (Practise makes perfect. Drawing every day will prevent an artist block)
Question with curiosity (Every one is different in the art world- ask lots of questions)
Don't overthink- act/ Do overthink- act (overthinking can be good because you can end up thinking of ideas that are less obvious. However, relaxing is also important. Being relaxed and enjoying your practise is a necessity)
Run your own race (Art is subjective, think about what you want to do)
Communicate (Learn and make use of other people)
Consider other peoples advice (Do not feel you have to take other peoples advice, even your tutors. It is very easy to be swayed in the art world and to be overwhelmed by ideas and concepts. Stay true to what you want to do)
Studio Space-
Frank Gehry documentary thoughts and ideas-
After watching the documentary called 'Sketches' which is based on Frank Gehry, I feel inspired to continue researching architecture.
In my first year of University, sculpture was intimidating to me. This was simply because I had never known where to begin with it. I love to explore with new materials but I have never enjoyed making lots of mistakes. Today at University our task was to create a Manifesto for the year. One of the points highlighted to us was to use our mistakes and to not be afraid of them. Our tutors highlighted that a mistake is simply an outcome that we did not predict or did not intend to make. It can be a good thing or a bad thing. In reflection, I would have never created the works I had without making the mistakes that I did. For instance, I was very unhappy with the paper maquettes I made last year. But without making them, I never would have gone on to make lino prints or drawings.
My practise usually involves printmaking, drawing and painting. My work is nearly always 2d. In year 1, I did start to create 3d works towards the end of my practise. Towards the end of the year I enjoyed using new materials, and one of my final pieces included a matchstick staircase piece which I installed on the wall. After watching this documentary on the way Frank Gehry works, I am really interested in designing and doing more. Furthermore, learning more about the history of architecture and materials is vital from a practical point of view.
Throughout my education, I have always enjoyed working in an organised and controlled manner. In my younger years, detail and precision in drawing is something that really interested me. Precision and detail are still very motivating to me. Being able to create a likeness to a subject matter is what I always aim for, and the way I live, and work is similar. I simply cannot draw without thinking about the structure in a 3d way. I always think about how it would look in real life. Furthermore, precision is needed. This is similar to my every day routine. My body does not work productively when I do not exercise. Running is my therapy and motivation to keep going in a similar way to how drawing and being precise is important when I am practising art. I have come to realise that art is whatever you want it to be and that there is no right or wrong answer. Last year I was very swayed by other peoples opinions and ideas. But realising that all art is different, I feel more confident when talking about my practise. I know now what I love to do, and I will not lose sight of what I am about.
Following on from this, I am considering taking trips abroad to visit some of Gehry's architectural pieces in person. One in particular that I love is called 'dancing house' and it is situated in Prague. This piece reminds me of one of my own pieces I created using flour last year. When I was practising using photography equipment, I took a photograph of a line of houses which gradually sloped up towards the right of the page and the image of the houses became warped as I placed the flour over the top of my image. Also, my love for music and movement drew me to this building because the buildings really do look as if they are dancing.
https://www.pragueexperience.com/places.asp?PlaceID=651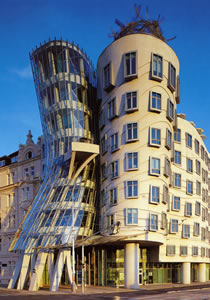 Above= Dancing house- New Town Prague- constructed between 1992-1996. Designed by Frank Gehry
Below= Flour drawing on black card of houses in bath- Year 1/ 2016-2017